Our partners
Rainbow Jews is a project supported by the Heritage Lottery through the Heritage Lottery Fund.

We are hosted by Liberal Judaism, an associated member of the World congress of GLBT Jews: Keshet Ga'avah.

Our partners and affiliates:
We are proud to be working together with two major UK archives:
A special thanks to Searle Kochberg and faculty for supporting the Rainbow Jews oral history filming programme:

Our project allies:
We appreciate the support we have received from the JHub Micro Grants Programme: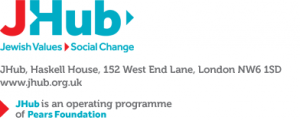 Rainbow Jews is also proudly associated with:
Thank yous
We couldn't have done this without the wonderful team of volunteers (see also our team)
With special thanks to photographer& artist  Ajamu,
a big THANK YOU to our wonderful mentor Norena Shopland, Cardiff, Wales
Our photography volunteer, artist Blanka Horakova
and – last but not least – to our amazing Oral History Trainer Verusca Calabria.
Rainbow Jews is a member of the UK Oral History Society: