Volunteer opportunities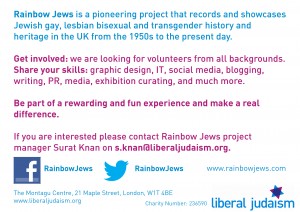 Need work experience?
Have some time to spare?
Want to be part of something extraordinary?
Volunteer for us
Get involved: we are looking for volunteers from all backgrounds.
Share your skills: graphic design, IT, social media, blogging,
writing, PR, media, exhibition curating, and much more.
Be part of a rewarding and fun experience and make a real
difference.
If you are interested please contact Rainbow Jews project
manager Surat Knan on s.knan@liberaljudaism.org.
by: 13 September 2013
Student placements
University of Portsmouth placements in summer 2013 to film and edit interviews with LGBTQ pioneers in Jewish life. Students will be responsible for all aspects of the filming including lighting, sound recording and editing into five-minute interviews. Read more.
Other roles
For information on other ways to volunteer, contact us.