The Archive Collection
 Where can I find the Rainbow Jews collection?
Our collection was launched on 28 May 2014.
The complete Rainbow Jews collection will be available via London Metropolitan Archives.
Archive Referenz: LMA/4653/PR/01 
Rainbow Jews is the first and – at present – the only source of  Jewish LGBT History in Britain.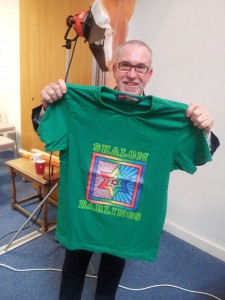 We aim to record all aspects of LGBT+ Jewish history from the 1950s to the present. A part of our project is to reveal our material cultural. By material culture we mean:
•      Photographs
•      Campaign leaflets and other printed materials
•      Minutes/agendas/meeting papers from LGBT+ Jewish groups, or non-Jewish groups with Jewish members.
•      Letters/emails
•      Badges/Banners/Posters/ephemera
•      Digital materials
•      Diaries
•      Any other memorabilia items.
Even items that may seem insignificant at first could help us to piece together the Rainbow Jews story. We are not necessarily looking to acquire these items. At the moment we would just like to take a look and possibly photograph them. We can then discuss display or deposit later, if you would like to keep these items with an archive for safekeeping. If you have anything that might be relevant stored away, and are happy for us to take a peek, please contact us or fill in the RJ memorabilia items info sheet pdf and send it back to us.
Please also refer to our Archives Booklet (downloadable) RainbowJews_ArchivesLeafletv5